40oz


Official Sponsor


Joined: 03 January 2004
Posts: 1799
01 July 2008 20:26 (UK time)

GETTING ON #JBGames.com BY VIRC

vIRC is an alternate IRC client that can be used to get onto any available chatroom, though is a little more complicated to use. However, I'd like to offer a bit of help. Here are some directions to get onto the #JBGames.com channel chatroom.

1.) Download and Install Visual IRC (vIRC.exe). You can download it by selecting one of the mirrors from this page:

http://www.visualirc.net/download.php?name=2.0

2.) Upon installation, it is reccomended that you don't bother downloading all the script nonsense and mouse gestures plugin, as seen on Figure0.gif, attached below. Those features are pretty complicated and unnecessary.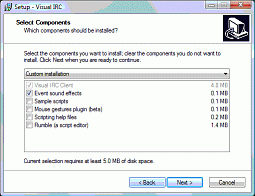 3.) Open up vIRC.exe. When it asks if you are new to IRC, just check the bubble that you have used IRC before. That will save us a bit of time since I can already explain how to use IRC here.

4.) After clicking ''OK'', you will get an ''Initial Setup'' menu, as shown in Figure1.gif below. The first entry shown says Default Nicks. Remove the predefined names, and click add to throw in a couple of names you'd like to be referred by while chatting. It is recommended that you use your current forum name, to avoid confusion. Ident should also be your current forum name, again to prevent confusion. Real Name; just type in your first name and surname. Default Server is the server that you will need to go on in order to access the #JBGames.com chatroom channel. That is ''irc.elitekamikazeteam.com:6667''. Make sure it is typed completely correct without any spelling errors. Copy and paste it into the entry if you want to be safe.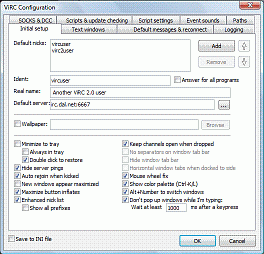 All the entries and checkboxes below are optional. You can play with them if you wish, I prefer the default settings. Click ''OK'' to the Initial Setup.

5.)You will get a blank window called ''MeGALiTH's Visual IRC 2.0'' In the top left corner, click ''Start''. The button has a picture of a computer monitor with a red sparkle next to it.

6.) After clicking ''Start'' you will receive a window saying ''[1] Server Notices'' In the top left corner of that window, there is a ''Connect'' button marked by a picture of two computer monitors connected by a wire, and a check mark. (Shown in Figure2.gif below).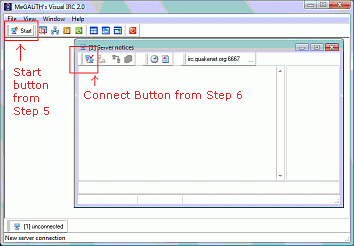 7.) Click on that button, and it should connect to the irc.elitekamikazeteam.com server. It may take a couple seconds, and a giant list of text should be displayed. (Look at Figure3.gif for what it looks like when it is done) When the you are full connected, type in the text box ''/join #JBGames.com'' and hit enter.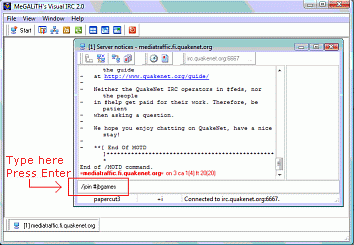 8.) In mere seconds, You should be connected to the #JBGames.com IRC Channel. It should look like Figure4.gif when it is ready. The column on the right displays all the people who are currently connected to the IRC channel. The large space in the middle is where all the chat is displayed. Have fun!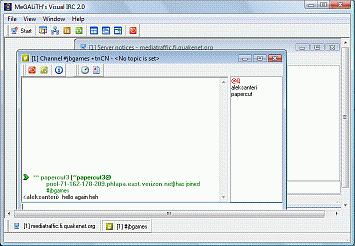 9.) In case you close out of IRC, and join in another time, Just open up vIRC.exe, and refer to this this list again from Step 5.

I am anxious to see you all on IRC as soon as possible!
---
---
*Papercut
Pro-Murder.
Legalize Crime.



Edited: 01 September 2008 18:39

You need to login to create posts in this thread.